Image by freepik.com
Outsourcing has become an increasingly popular go-to source for IT labor and services, particularly web and software development. Compared to traditional in-house development, outsourcing is less costly, more convenient, and flexible enough to meet just about every development need. Plus, it's hard to find competent developers willing to work as full-time employees nowadays. In fact, the need to fill technical labor gaps is one of the main drivers pushing companies to outsource development services and projects.
The application outsourcing market has grown considerably over the last few years as more and more companies continue to embrace outsourcing. This industry is currently worth about $116 billion globally, and analysts believe it could reach $145.70 billion by 2027.
This growing demand for outsourced development has sparked a global interest in emerging tech outsourcing hotspots. And the LATAM region is one of the rising and promising outsourcing destinations that's quickly catching the attention of employers worldwide, especially those in neighboring North America.
Let's take a deep dive into the LATAM region as a development outsourcing destination. Here are some of the big questions we're hoping to answer:
How did the LATAM region join the ranks of top global outsourcing hotspots?
Which LATAM countries are the best for outsourcing development labor and projects?
Is outsourcing to LATAM better than offshoring to Asia or Europe?
How do you go about outsourcing development to LATAM destinations?
It seems we have a lot to go through. So, let's get started.
A brief history and overview of Latin America
Latin America consists of the entire continent of South America, Central America, and the Caribbean islands. LATAM residents do not exactly speak Latin. But Spanish and Portuguese are widely spoken in the region; the two are "Romance languages" derived from Latin, hence the name. LATAM covers approximately 7.412 million mi², encompasses 21 countries, and is home to about 665,184,420 people.
Like many parts of the world, LATAM has a long and not so pretty history that shaped it into what it is today. Here's a brief and oversimplified history of Latin America:
The Maya, Aztec, and Inca peoples established the earliest civilization in the region and are considered the indigenous inhabitants of Latin America. Starting in the 1500s, Spanish conquistadors and Portuguese explorers began settling in South America, where they quickly established several cities in present-day Mexico, Colombia, Guatemala, and elsewhere. The Spanish and Portuguese also introduced the natives to Christianity and other European cultures.
However, like most conquests of the time, the European settlers subjected the indigenous population to forced labor, exploitation, and slavery. This naturally devolved into all-out conflicts that went well into the 19th century, when most of the oppressed countries started gaining their independence. Sadly, most countries fell to military dictatorships in the 1900s, shortly after independence.
Democracy and the first glimpse of peace arrived in LATAM during the 1980s and 1990s after countless coups, revolutions, and international interventions led mainly by the US.
European and American influences and conflict are the chisels and mallets that sculptured the Latin America we all know and love today. LATAM is now a peaceful, politically stable, and fully democratic region. This stability has enabled most LATAM countries to establish thriving economies, lucrative international trade corridors, and essential public amenities that empower their citizens.
With that basic overview of LATAM's history, let's look at what makes the region such an attractive outsourcing destination.
Latin America as a development outsourcing destination
When you think of software outsourcing hotspots, countries like China, India, Poland, the Philippines, and Ukraine probably come to mind. Historically, these offshoring destinations have dominated the outsourcing market, mainly due to their low prices and little competition.
But things are quickly changing. More and more US-based companies are looking south for IT talent. So, what's so alluring about outsourcing to LATAM? While LATAM cannot compete with offshoring powerhouses strictly on the basis of cost, it does play to its many unique strengths, which include:
Geographical proximity
Unlike Asia/Pacific and European offshoring destinations, which are half a world away, LATAM is practically in the US's backyard. For one, LATAM and the US have a negligible time zone difference, meaning that teams on either side can seamlessly collaborate during the overlapping business hours. Plus, it's a short travel distance for US-based employers who might want to get the feel of the place in person.
Large talent pool
The LATAM region harbors a vast pool of highly qualified and experienced developers primed for the international job market. It's hard to say exactly how many developers LATAM has to offer. But data from Statista shows that nearly a million software developers (from just five LATAM countries) were involved in offshore development in 2021.
High-quality outputs
LATAM developers do not compromise on quality. This is a somewhat cliché thing to say, but true all the same. And it's not just in software development either. In general, the Latin American workforce follows strict work ethics that, above all else, embrace professionalism, customer satisfaction, and quality assurance.
Cultural similarities
Heavy European and North American influences are the key drivers behind LATAM's evolution. Even today, LATAM and the US share similar cultural influences, including social-political factors, religions, and pop cultures. These strong cultural similarities also extend to business relationships, eliminating friction and fostering mutual understanding between US-based employers and LATAM developers.
English proficiency
The LATAM population, especially those in professional occupations, have a good grasp of the English language. According to the Education First English Proficiency Index, nearly all Latin American countries have improved their English proficiency over the last decade. Argentina, for example, ranks 30th on the English Proficiency Index and is one of only 18 countries in the "High Proficiency" group.
Speaking a common tongue simplifies communication and removes counterproductive language barriers. This paves the way for mutual understanding and allows for smooth collaborations.
Government support
Most LATAM governments actively support and encourage labor outsourcing initiatives. This support comes in the form of outsourcing-friendly international trade and labor laws, incentives for US-based employers, and government-sponsored programs empowering LATAM citizens to pursue professional careers in IT.
Latin America checks all the right boxes of a resourceful outsourcing destination, from cost-efficiency and talent availability to ease of outsourcing. But LATAM's biggest selling point is its close proximity to the US, allowing US-based companies to enjoy the many incredible benefits of nearshoring software/web development.
Top software outsourcing countries in Latin America
The table below shows a summary of the top countries (in no particular order) to outsource development in Latin America: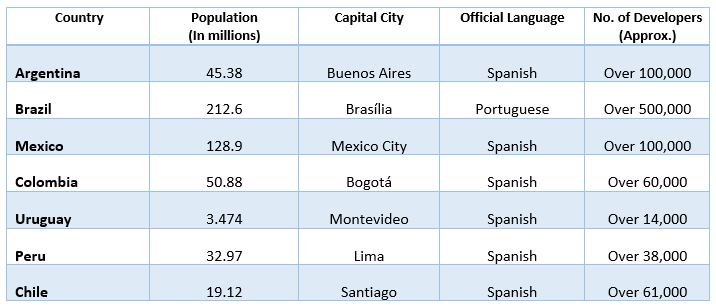 Source: Writer's own work
How to outsource software and web development to LATAM
The best way to outsource web or software development to Latin America is through an IT outsourcing or staffing agency. A staffing agency such as WeDevelop links you to talent sources in LATAM, vets and pre-qualifies potential candidates, and handles all the outsourcing and hiring processes.
With WeDevelop's help, you can quickly build a dedicated team of developers to work independently from your existing staff or augment your in-house team with extra hands and skills using world-class talent from LATAM. We've worked down the staffing process into four simple steps for both scenarios:
1. Tell us what you need
The first step is you (the employer/client) telling us the kind of developer you're looking for or the role you want to fill. You can do this by email or via a free 15-minute consultation call. This is a crucial preliminary stage where we discuss your staffing, outsourcing, or development needs.
2. Developing a job description
If you've already prepared a job description, we'll use that to match your talent right away. Otherwise, we'll refer to the initial brief and put together a job description that represents what you're looking for. We'll essentially translate your needs into quantifiable developer qualities (qualifications, skillsets, specialization, experience, etc.)
3. Selecting candidates for the job
After just a few days, you'll receive the first list of potential candidates. We'll only present you with candidates that perfectly match the job description down to the last detail. Each candidate is hand-picked from a large pool of pre-screened and proven engineers, programmers, and designers from various LATAM countries. You can, of course, interview the candidates yourself to ascertain their qualifications and fitness for the job. And you're free to turn down any suggestions you don't like until you've found the desired candidates.
4. Hiring and onboarding
After selecting your developers, it's just a small matter of hiring the new talent and getting to work. WeDevelop takes care of all the hiring paperwork, including legal compliance, and guides you through the entire process, guaranteeing smooth, quick hiring. We'll also help you onboard the new hires and ensure they're comfortable and ready to start developing.
Finally, we like to keep tabs on our clients and outsourced developers. So, we'll check in every once in a while to see how things are going, get your feedback, and offer any assistance.
In addition to staff augmentation and dedicated teams, we also offer full web development services. This is ideal if you need a custom web application but don't want to hire extra developers or overburden your IT team with a new project. We employ the Agile development methodology to deliver high-quality web applications as quickly and efficiently as possible.
Final word
Outsourcing development to the LATAM region is much like hiring local developers in the US. This is due to the LATAM workforce's geographical proximity, cultural and language similarities, strong work ethics, and solid tech background. However, it costs a lot less to nearshore development to LATAM than to hire US-based talent. But the lower cost does not mean lower quality. It's just that professional labor costs less in LATAM than in the US, and you won't incur heavy onboarding expenses when hiring remote developers from Latin America. You don't even have to worry about employee accommodation or benefits.
Consider Latin America for your next development project and IT personnel hire. And remember to partner with WeDevelop for quick and flawless project outsourcing and IT staffing.